About Us
Carsington Sailing Club is located on the picturesque Carsington Water on the southern edge of the beautiful Derbyshire Peak District.

As well as the Sailing and Watersport activities that the Club has to offer, there is access within 200 metres to a Visitors Centre, Fishing, Cycle Hire, Children's Play Area and other activities. There is a 3 mile walking/cycle route perfect for little legs (and big ones too) and an 8 mile walking/cycling route for those who want a bit more of a challenge. The tracks also provide links to the High Peak and Tissington trails. All this is accessible right from the Club gates.

We are open Wednesdays to Sundays for Recreational Sailing, Racing, Adult and Youth Training, Windsurfing & Foiling, Visitor Day Sailing as well as a new venture for Radio Controlled Yachts.

The Club has ample free parking, plus large changing facilities with plenty of hot showers.
As well as a large Club Room with plenty of seating, bar and galley, there is a large outside balcony overlooking the water, with picnic tables for those warm summer days when you can soak up the wonderful views we are able to enjoy.

Great food is available from "The Galley" on Wednesdays and at Weekends.
Free wifi is also available to Members.

From Start to Finish, Carsington Sailing Club offers wonderful opportunities to get involved with a variety of Watersport activities in a fantastic setting, whether it is for for the whole family or individuals. Full disabled access and toilets.

If you would like to come and check us out please either turn up or contact us so we can make sure we have someone available to show you around and answer all your questions.
Our contact details are:
Email: office@cscmail.co.uk
Phone: 01629 540609
Below you will find brief details of the activities we have available.
Start Sailing
Push the Boat Out.
The Club supports the RYA Push-the-Boat-Out scheme which aims to get anyone interested in sailing out on the water. To help with this we offer free Taster Sessions to encourage you to have a go. If you would like to have a try, call us on 01629 540609 and book one up.

Training
Carsington Sailing Club is a recognised RYA Training Centre and RYA OnBoard Club to help you and your children to learn to sail.

From those first steps into Sailing through to a range of more advanced courses, you will find more information on a wide range of RYA Adult and Youth training courses to suit all the family in our Training Section.

Windsurfing & Windfoiling - RYA Power Level 1 & 2, Safety Boat, plus a variety of onshore courses, such as First Aid, are also available.

You may either book courses online or for more information please call the office on 01629 540609 or via email at office@cscmail.co.uk

Already a Sailor?
As a Member of Carsington, you can enjoy Recreational Sailing, Club Racing, Open Events, Windsurfing & Foiling and even Radio Controlled Model Yachting.

Boats, up to 7.3m (24"), can be berthed at the Club, with access to the water either by one of three slip ways with pontoons or via a very large expanse of maintained beach area.

Cruisers are also most welcome and we have a number of buoyed moorings in the bay.

Boat Hire
If you can already sail but don't have boat of your own, Members may hire one from our fleet which includes Toppers, Topper Byte, Picos, Comets, Wayfarers, 2000 Class, Hartley 10 & 15, and Dart 16 & 18 catamarans. For more details.......

Youth Squad
Carsington places a huge emphasis on developing young Sailors. As well as a wide variety of RYA Sailing Courses, the Club also has a Saturday afternoon OnBoard Club for developing young Sailors skills. They also hold occasional BBQs and Camping Weekends.
The Club maintains close links with Derbyshire Youth Sailing and also acts as host for the Derbyshire Scouts Sailing group.
We are also a regular venue for Topper and Optimist regional and national events, as well as occasional training weekends.

Sailability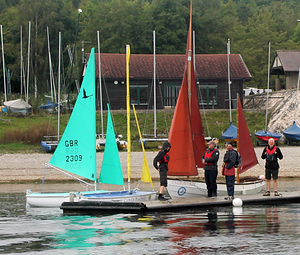 If you are disabled and fancy having a go at sailing, then the Carsington Sailability Group makes disability plain Sailing.

The Sailability Group have been an integral part of the Club for over 20 years
There are dedicated facilities for disabled sailors, as well as a hoist to help sailors get in and out of boats.
Sailing takes place on most Wednesdays and Saturdays with, as well as on water activity, lots of social interaction, not to mention extended lunches provided by the Galley.

The group are also very active in organising charity events at the Club as well as hosting a Hansa Open event each year.

Visitor Sailing…..
....Is available either on a daily or weekly basis for those visiting the area on holiday. Visitors bring their own boat and, as temporary Members, can make full use of the club facilities. More information....

Family Holiday Courses:
If you are considering a family holiday in the Peak District, why not book ahead and come and enjoy some family sailing courses at the Club.

Social Events
Off the water we hold a variety of Social Events throughout the year.
These include events such as, Easter Egg Hunt, Hospital Charity Day, Quiz night, Bonfire Night, Children's Christmas Party (Santa really arrives by water), Boxing Day Pursuit Race, amongst others.
Popular on Friday evenings in the summer are our Sail and Sizzle evening; the sizzle is the DIY BBQ.

Downloads